Every trip I make to Manchester is special for me since I'm such a passionate Manchester United supporter and I feel privileged that I got my own season ticket and that I'm able to travel this often. I love Manchester and not only for the football club. I've traveled regularly since 2011 and my love for the city and all the people gets stronger every time. I've been thinking a lot about you guys since the terror attack back in May. It was a nightmare and it took away the normal "match day-feeling" when I sat on the flight to Stockholm. Football means nothing when it comes to this, but that night United won the final for the whole city. The victory was for Manchester and it was a strong achievement when it clearly affected everyone.  
And that's the great thing about football, even though life is hard we can forget about it for some hours, get together and watch our team play and feel close, ignore everything else. And just for 90 minutes things are perfect. Manchester will forever be affected by this and we will never forget. I feel your pain, Norway was attacked in 2011 and it claimed a total of 77 lives, mostly young people. It was the deadliest attack in Norway since World War 2 and we all felt how it was to be under attack. Our city was no longer safe and we will always remember that day. But we can't let those people win, they want to spread fear and change our lives. After the attack in Oslo we responded with love. "If one man can show so much hate, just imagine how much love we all together can create". And it was amazing to see that Manchester did the same. As you say; "this is Manchester. We do things differently here…"

As I said, Manchester is always special to me, but this trip meant so much more. It was amazing to finally be back after a long summer and it didn't disappoint.
Me and my boyfriend arrived super early Friday and after checking in we went to the gym. Even though I love a good party, a healthy lifestyle is also very important to me so I'm glad we stayed at The Lowry where I can order any food I want and also work out. You know, it's all about balance 😉
Last time in Manchester we had some amazing Chinese food so after a quick shower we went back there, I love this place- they got their own vegan menu! That makes me SO HAPPY(!!!!) It's called The Little Yang Sing and since it's so good I'm afraid they're stucked with me for life!
In Norway it's almost 50-50 of Manchester United and Liverpool supporters. And Premier League is huge here so every weekend United play at home there's a lot of Norwegians over. I know some of you hate us and some of you love us, haha! After a good lunch we went to see some of our friends around the city. One place I always visit is The Circus Tavern. Smallest pub with the best atmosphere! Barry and the girls are so nice so it's always good to see them.
For dinner we tried a new place called Fazenda and even though it's a steak house I loved it! The location was nice, they had a cool bar, a huge salad bar, some really good wine and a few vegan options as well on their menu. I don't ask for more 😉 I know Guacho is a really popular place, but I will highly recommend this one. I'll be back for sure!
Saturday morning, I was up early to catch the breakfast and a bloody Mary. (Hello vacation!) After that I had a powernap before we went out to meet some friends, I was finally in vacay-mood 😀  

 A selfie a day keeps the doctor away…
The weather was nice so we walked in a slow tempo down to the city and just enjoyed the sun. Those who follow my social media know I'm a big fan of betting and it's so easy with my Betsson app to do live-bet etc, but it's something special to go in a small shop to deliver your bet and get a coupon. And you know what- all my bets went in 😉 
Betting expert 😉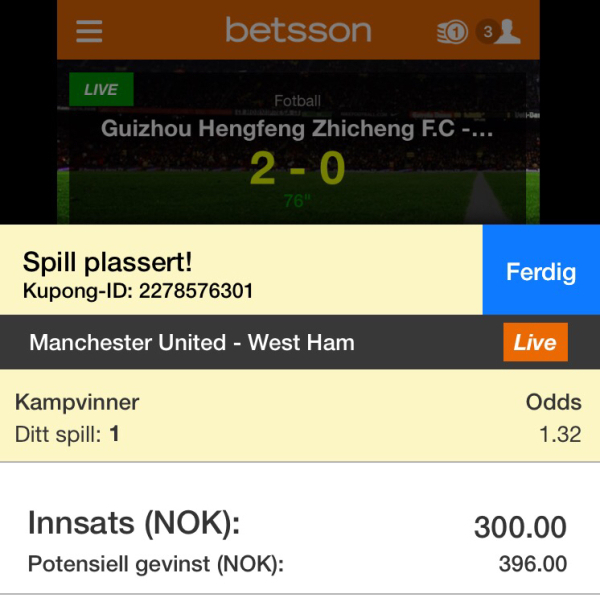 It was time for lunch so we went to a French brasserie (Cote Brasserie) I've visited once before but our disappointment was HUGE when they no longer served onion soup?! You can't run a French Brasserie and not have that the menu?! It was basically the reason I went there so I won't be back until they put it back on the menu. The food is good, but not outstanding. The wine was good though so I didn't complain 😉
(I'm looking through my photos and I know this is not a food blog, so sorry for mostly writing about food #sorrynotsorry! The funny thing about being vegan is that so many people think a plain salad is the only thing I eat?! Couldn't be further from the truth 😀 )

My mood couldn't be any better after Chelsea's loss and Liverpool's draw so Saturday was really good!  
My all-time favorite restaurant in Manchester is Australiasia. The drinks, the food, the place.. I really enjoy it and it's perfect to go there before a night out. I wanted to be in my best shape Sunday so I didn't drink that much and went home straight after the dinner. Because of a shoulder injury I'm on some medicine that doesn't go well with alcohol, I'm usually not the first one to leave 😉
Good friends and good food <3
Since the medicine is strong I was gutted when I woke up because I felt really bad, like the worst hangover ever but it's because I skipped some meals and that can make me feel ill. So what else could I do than cure it with a Bloody Mary?? 😀 IT'S MATCH DAY!
Opening weekend is for me bigger than Christmas and my birthday! After a quick brekkie we took an Uber to The Bishops, I know the typical Manc doesn't go there and are laughing at all the tourism (why?!) but I really don't care. You can call me a tourist all you want, because that is what I am 😀 But never (!) say I'm not worthy my place at Old Trafford. If it makes you feel better- sure- make fun of us and use your bitterness on me while watching the game on TV and ranting on my social media (lol), but when I'm this passionate about my club I have every right to be there. And don't get me wrong; 99% of all the people I meat are nice, but of course there are some rats and this is the only time I'll give them attention. I just had to get it off my chest.
No idea what I was doing here, haha!
I went to The Bishops and the football hotel but I must say Bishop is the place for me! I like the place and the atmosphere was really good before kick-off!

Walking up the stairs to Stretford End was unbelievable.. Just knowing that in some minutes I would stand on my own place again after so many months off got me running without stops. And those who knows me know cardio is not my thing 😉
Stretty was buzzing!! Before the first goal we were quite worried because it looked all like last season all over again. Under my years as a season ticket holder I've witnessed so many bad games. Draw, draw, draw… I couldn't live with another season with boring football on 'The Theatre of draws'. So when Lukaku scored everyone exploded! I got a lot of messages from friends watching the game at home saying the atmosphere was good and it was, no-one sat down and we sang all the game trough.
This is the best medicine for everything! Being in Manchester and watch the boys play this well is the best feeling ever, it makes me unbelievable happy! I can't describe it with no other words, just pure happiness.   
WE ARE TOP OF THE LEAGUE
Yeah, yeah, let's not get carried away. But this was the best football since Fergie!?! The season has just started, we all know it's a long way but if the boys play like this every time we will win the league. Most of the experts have City as number one and United as second. As I wrote in my last blog post about this season I said it will be extremely tight and I also believe the winner is either City or United. Both clubs need to win titles and it's a huge pressure on both Pep and Jose to win the league. But as a United supporter I will always give my team 'the benefits of the doubt'- I believe that United are a better and stronger team than City. Both teams got new players who needs to fit in. We got the best goal keeper in the world, we got Valencia and Bailly- both world class in their position. We got Matic who's been pure class since day one, we got Pogba, Micky, Mata, Martial, Rash, Hererra, Lukaku…This is a winning team!
Sunday was a good surprise, I expected a win but not as good as this one. Of course we can allow ourself to be extra happy. It's been years since we played like this.  
Can't wait for Saturday and the second round.