For en kamp! Jeg var positiv fremfor kampen og hadde en god følelse på United, men man kan jo aldri vite. Og så klart har man litt nerver når det er snakk om en slik kamp, men jeg var aller mest spent! Fredagen var jeg på Hotel Football med McClair og Lee Martin, veldig moro og en perfekt oppladning! Lørdag morgen var det opp grytidlig for å dra på bishops. Møtte mange kjente og det er alltid like hyggelig.
Det var helt utrolig på Stretford End! Atmosfæren var dritbra, og jeg sto å klappa og sang i 96 minutter i strekk. Ikke rart jeg er uten stemme fortsatt. Jeg elsket hvert minutt og hvor deilig var det ikke at Rashford senka Liverpool?!? BESTE følelsen i verden!
Jeg kunne ikke bedt om en bedre helg og denne kampen kommer jeg til å leve på lenge. Ubeskrivelig deilig rett og slett.
Og som det ikke er godt og morsomt nok å slå Liverpool så gjør mange av fansen det ikke så mye bedre for seg selv. Jeg har aldri lest så mange unnskyldinger etter en kamp før! Og klaging! Haha! Så topper Mr. Carragher det med å spytte mot to supportere. Hodeløse hele gjengen. I tillegg påstår mange at bortefansen var best? Haha! Det hjelper ikke å synge ETTER kampen er ferdig. Støtte laget deres under 2-0 gjorde dere i hvert fall ikke og det er det som beskriver gode supportere. Folk klagde også på at de ble holdt igjen av vaktene etter kampen, men da kan de umulig ha vært på mange bortekamper før for det er nemlig helt normalt. Nei, utrolig moro å få med seg dette. I tillegg er mange meget stille på sosiale medier for tiden og det er også digg 😂👏
Jeg har knapt fått landet etter kampen før det er full rulle igjen. Det er jo i kveld det virkelig gjelder! United MÅ vinne ellers er det snipp, snapp, snute. Jeg er mer nervøs i dag. Jeg spiser gladelig mine egne ord om Young og Smalling, de var utrolig gode lørdag og måtte det fortsette. Nå møter de jo et sterkere lag i kveld, men måtte dette gi alle en økt selvtillit!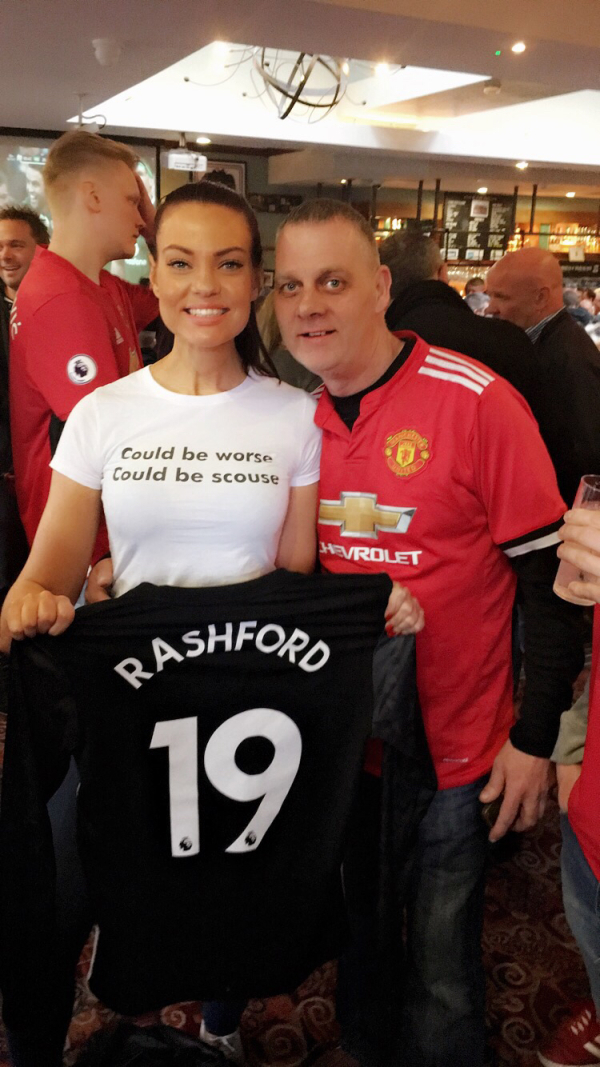 What a game!!
I was confident in front of the game and believed we would win, but you can never know! So of course there was some nerves and I was really excited!
Went to the bishops early and lots and lots of friends there. A perfect build up.
Stretford End was amazing! I sang my heart out and stood there clapping and singing for 96 minutes. No wonder my voice is still gone. I loved every minute of the game. And how good was is when Rashford put Liverpool 2 down?! BEST feeling in the world.
I couldn't ask for a better weekend. I will live on this for a long, long time!
And it's even funnier reading all the bitter comments from the scousers. HAHA!!! So in your faces! I've read every excuse in the world now. And when mr. Carragher top it off with the spitting it couldn't be funnier. Hahahaah amazing amazing.
Some actually had the nerve saying Liverpool had the best atmosphere and that they are the best away fans. Well that's a lie. A big one! It doesn't count if you start singing AFTER the game😂 and it's perfectly normal being hold back at big games away, so no need to moan about that either. I love how quiet they are now 😂
I'm not over the game yet- and already a huge game tonight!?! I'm more nervous about this one because of the importance of it. But United deserved the win on Saturday, they were great. And I'm gladly 'eating' my words on Young and Smalling!! They were great 😂🙈 now they just need to show consistency and tonight's a new chanceto do that.
COME ON UNITED ❤