Tia flyr når man har det moro! Jeg har ikke hatt tid til å skrive om helgen, men det må jeg jo. Manchester skuffet ikke! Det var jo bursdagshelg nummer to for meg og den innfridde heldigvis. United vant og nok en morsom tur er over.
Denne gangen var det bare jenter som dro over og vi valgte å bo i leilighet. Og det anbefales virkelig! Jeg vet ikke hvor mange tusen jeg har svidd av unødvendig fordi jeg har vært sent ute med å bestille og det som er igjen er svinedyre og i tillegg dårlige hotell. Slikt er surt, kunne jo fått en luksustur for de pengene, men slik er det. Prisene skrus opp pga fotball og det må vi dessverre bare regne med. Men uansett: Airbnb er genialt. Vi bodde midt i sentrum og det var en fin og ren leilighet, det er det viktigste for meg. Når man er flere så blir det ikke vare billigere, men også mer sosialt. Alltid koselig å ta en drink sammen mens man sminker seg og vurderer antrekk. Er det jentetur så er det jentetur!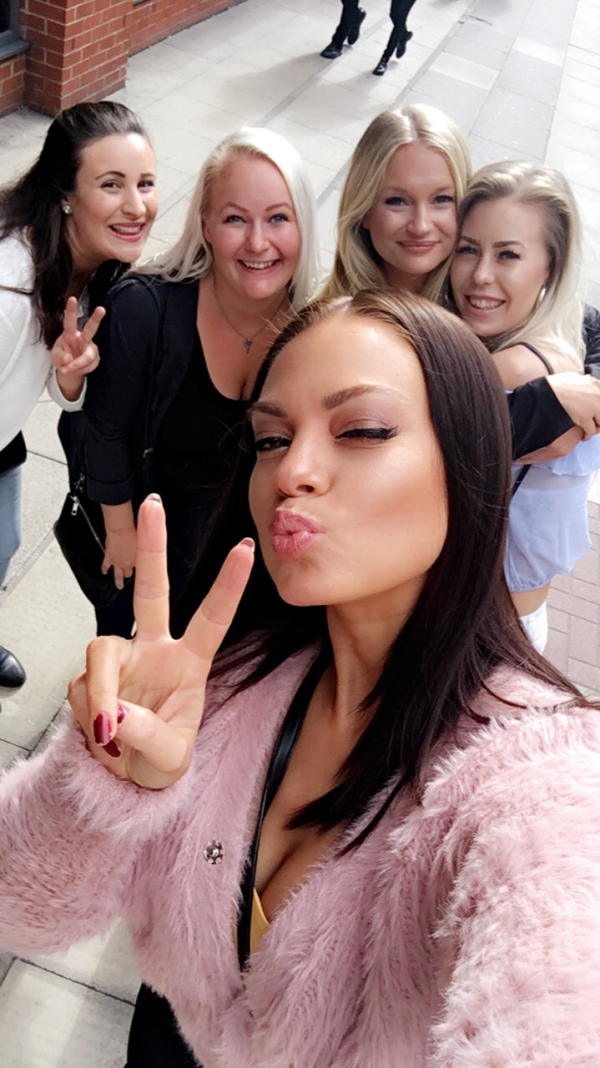 Time flies when you have fun! Manchester was great (as always) and birthday weekend part two didn't disappoint. And most importantly; United won! So yeah, the weekend was exactly what I expected 😁
We all stayed together in an apartment this time and I recommend it if you are more than two people traveling to Manchester. It's so expensive for hotels in Manchester and I can't think how many thousands I've waisted on bad hotels because that's the only thing left and they put the prizes up because of football. I could have gotten a luxury vacation for all that money but because of United I keep coming back! 😛 anyway; I highly recommend airbnb instead of hotels if you're traveling in a group. It's more social and often cheaper as well. Our place was really nice and it's so important for me that the bedroom and bathroom are nice and clean. I don't care about the rest because all I do inside is sleep and shower. If you're a normal person it's also nice to have a good breakfast (I've heard..) before match etc. We filled the refrigerator with Pepsi max and red bull, ready to cure the hangover.
Vi kom til Manchester veldig tidlig lørdag så vi hadde hele dagen. Til lunsj dro vi til Tops buffè og den anbefales om du ikke vet hva du vil ha eller du vil spare litt penger. De har nemlig alt du kan tenke deg av mat og i tillegg latterlig billig. Kostet vel 10 pund om jeg husker rett og det er jo ingenting. Helt greit sted innimellom, men buffe er jo ikke bra for deg. Man spiser jo alt for mye og jeg kan bare si at super-thight bukse og magetopp er veldig upraktisk når man spiser med øynene.
We arrived Manchester super early and after checking in we went out for lunch. If you're looking for a cheap meal or don't know what you want for food and you're in a group Tops buffet is a good choice. Think it's only £10 for food and they got it all. I had sushi, sweet potato fries, mixed vegetables, fried rice and a tofu mix and it was really good. Many vegan options and ok to visit now and then. The negative thing about eating at an all-you-can-eat place is that it's like my body take it as an challenge to see how much food I can eat. Haha. And when wearing a super tight jeans and a crop top it's not the smartest thing. 😜
Visiting the Circus tavern is tradition and it's always a good mix with locals and Norwegians. Since I'm a tourist I like that 😉
For dinner we visited Fazenda and everyone loved the food. Good food, drinks and friends 😁❤ we visited some bars around Spinningsfield after and ended up at Panacea.
Vi spiste middag på Fazenda og alle likte maten, veldig kult sted. Etter det var vi rundt omkring Spinningsfield og avsluttet på Panacea.
Søndag var selvfølgelig den store dagen! Matchday og da gjelder det seg å komme seg opp så tidlig som mulig og sette snuten mot Bishops. Vi var der hele dagen og veldig god stemning! Møtte så sykt mange bekjente og det gjør det bare enda hyggeligere.
Sunday and MATCHDAY! Days like this you just gotta get up and start where you ended the night before. Bottles were popped and we were ready! We went to the Bishops and it was really good that day, I met a lot of friends from all over and that makes it more fun naturally.
Vi hadde billetter på Singing section denne gangen siden vi var flere og selv om det ikke er Stretford End så var det meget god stemning! Rart å se Rooney tilbake og glad han ikke scorte mot oss. Det var ikke akkurat den beste kampen og denne gangen synes jeg det var helt feil at Fellaini startet. Hva med Herrera?! Ikke bra spill, men vi tar tre viktige poeng. Selv om det er det viktigste vil vi også ha underholdning og heldigvis ble slutten av kampen mye bedre og vi vinner nok en gang 4-0! Jeg kunne skrevet mye mer, men jeg er på tredemølla og må avslutte så jeg rekker hjem til kampstart!
This time I had seats at singing section and I liked it. Different from stretty of course but good atmosphere! It wasn't the best game event though we ended up with a new 4-0 win. Boring mostly but we got the goals and the most important is of course to get 3 points. But the supporters need more, we want entertainment! So we were happy to see more goals and a game we probably would have drawn last season we won in Sunday and that's so important. United need to improve a lot to be able to win the league- but I can see clearly a progress and that's good! I could (and want to) write more about the game but I don't have time actually. I'm as we speak on the treadmill and cardio and typing is killing me so I have to stop both now and hurry home for the game!
I'm gonna go for a new 4-0 win today I think!