Happy new year!
We're almost halfway into January already, but before I write about 2018 I want to have a look back at 2017 and share some pictures with you of what I did
First trip for the year was -no surprise- to MANCHESTER. Biggest game of the year will always be United- Liverpool for me and we played them in January. The result (1-1) was a huge disappointment and we should have beaten them.
Ligacup final at Wembley in February. We played Southampton and I thought it would be an easy match. I was wrong, we played poor and we were lucky! United had a bad day at work, but at 2-2 our Swedish hero wanted it differently and scored the winner goal. As he said; "everywhere I go, I win".
We spent the weekend in London and celebrated the victory, visited some friends who lives there and had an amazing dinner at Jason Atherton, the Michelin starred chef restaurant in London.
I had the privilege to be interviewed by the one and only Gary Neville when he visited Oslo! I think his book will be out this year and it's about fans from all around the world and how we support United. A fun day! Even tough I love United, I'm not obsessed with the players as many are. Autographs and pictures isn't that important to me and I'm way to lazy anyway to stand in line after match or training etc to get a chance to say hi, after all they are just people. But there are certain people I look up to, Gary Neville is one of them. I respect him, he's smart and knows his stuff and he played a huge role in my first years as a United supporter. A true red. So it was really cool to meet him.
Best experience in 2017: visiting Maldives! Words and pictures can't describe how beautiful it is there and it's absolutely heaven on earth! Warm crystal clear water, white sandy beaches, palm trees, our own private water villa and free bar. What more can you dream of?! Sometimes I close my eyes and daydream back to it.. Defiantly the best experience of the year and I don't think I'll ever see a more beautiful place ❤ It really felt like we were on a desert island and being there with the person you love was a dream come true.
We stayed at OZEN by Atmosphere and even though I believe every island are beautiful in the Maldives, this one is unique with their underwater restaurant- amazing experience! We had tasting menu with 8 courses and ate it while we watched the ocean life right in front of us. So beautiful!
EUROPA LEAGUE FINAL🏆
We all were ready for Stockholm and the Europe league final against Ajax back in may. Such an important game for United as we could qualify for Champions League. But the whole world stopped when the news reached us about the Manchester Arena bombing. I was in Norway at the time, but I certainly felt the pain and my thought were constantly on Manchester, the city I love and for all the people who were affected.
The atmosphere in Stockholm on match day was something special. It was a huge achievement to play a final the day after a tragedy like that and the players won that trophy for Manchester.
We won and could celebrate a victory for Manchester. That felt good, I also met Alex Ferguson at our hotel so I was really happy about the trip! It was so important for United to qualify to the Champions League since Premier League once again was a failure. To be honest I was looking forward to the summer break and as soon as the season ended I counted days until pre-season!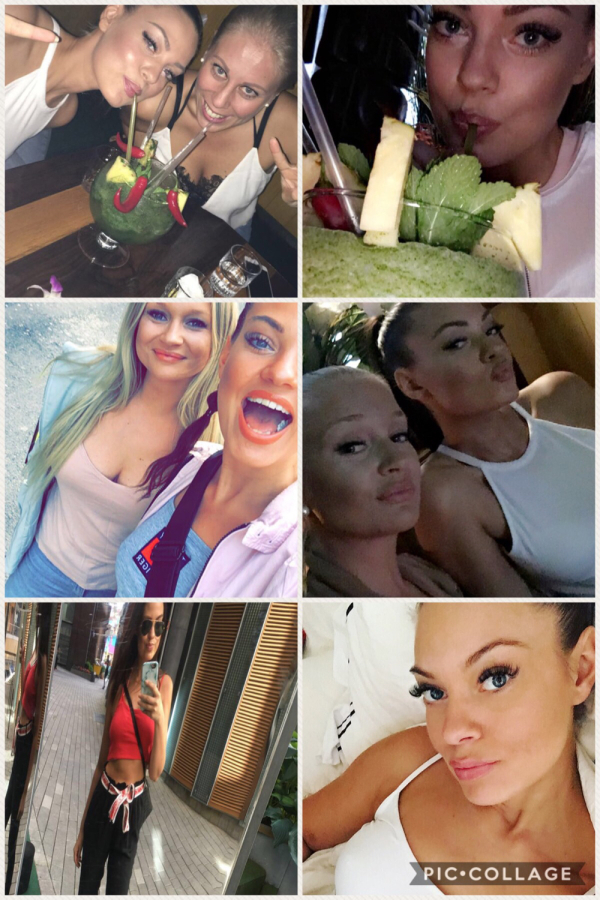 The weekend United visited Oslo and met Vålerenga, RedArmyBet hosted a big party for all supporters and it was a really fun weekend with lots of friends and my family in Oslo for the game. It was also my nephews first United game (one of many!).
As I said, I counted the days under the pre-season until Premier League was back. We signed Lukaku, Lindelöf and Matic and it's an understatement to say I was excited! It's a tradition to be at Old Trafford the first home match and we played home the first round against West Ham.
Another tradition is to celebrate my birthday in Manchester. I traveled with the girls and we saw another 4-0 victory! This time against Everton and the first time Rooney played against us after he signed for the blues.
Me and my boyfriend traveled to Copenhagen and saw the Ricky Gervais show! I loooove Ricky and it was so fun!! We had dinner at Kokkeriet and with 14 courses- all vegan of course, I can promise you I was full afterwards 😍
I became ambassador for Red Army Bet!
I discovered my favorite vegan place in Oslo: NordVegan 😍😍
The funniest trip to Manchester was with Christina against City, everything was funny except the game! Haha
We had an event with Redarmybet and hosted McClair and Sharpe!
Christmas is by far the best holiday and I think we got 100 Santas in our apartment and the Christmas tree was up before December! I watched every Christmas movie I came over and ate a lot of candy, I went home to my parents and had some well deserved days off and did nothing!
After some relaxing days at home I went to Manchester for the last days of 2017. Boxing Day was so disappointing and I had my fingers crossed that we could end the year with a good game, but that didn't happen. We decided to forget about football and just enjoy our days in Manchester and we had the best New Year eve! Nice dinner and party with good friends is always a winner.
2017 was the best year so far in my life and I have big plans for 2018!